This post may contain affiliate links, which means if you click through and purchase something using my links, I receive a small commission. You can click here to read my disclosure policy ? Thank you!
Cinco de Mayo is one of my favorite holidays, mostly because I looooove Mexican food! You can read more about the history of Cinco de Mayo here. Also looking to celebrate the holiday? Check out today's awesome post by Anum about celebrating Cinco de Mayo on a budget!
Celebrating Cinco de Mayo doesn't have to break the bank. There are many ways you can celebrate the festive holiday on a budget!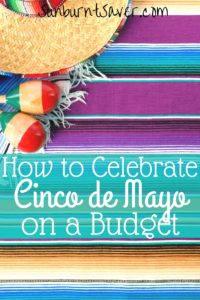 Find Free Festivities
Cinco de Mayo isn't just an excuse to drink and party. There's a whole lot of history behind the holiday.
Many libraries or community centers might hold events that will teach about the history of Cinco de Mayo while celebrating in style. Plus, they're probably free! Look into these events and get a group of friends or family together to go. It'll be more fun with a group!
There will also probably be some sort of festival or parade in a town near you that would be a great way to celebrate. These ideas don't require any work, since you'll be a guest at an event, rather than the host, and they're either really cheap or completely free!
Find the Best Deals
If you want to go out to celebrate Cinco de Mayo, whether it's to a restaurant or to a bar, try your best to stay on-budget. Bars and restaurants will usually be doing some sort of special promotion for Cinco de Mayo, so do your research and find out which ones will be the cheapest for you. Then, all you have to do is pick up some friends and hit the town!
I have a tradition with my friends to visit a buffet that has a build-your-own taco bar, quesadillas, enchiladas, fish tacos, a chili bar, dessert nachos and spice rum cake. It's the best of the best of Mexican cuisine (IMO) and it's not too expensive! This is a fun way for us to get together and celebrate Cinco de Mayo without breaking the bank.
Celebrate at Home
Hosting your own fiesta is a great way to celebrate Cinco de Mayo, and there are plenty of ways to do it on a budget! Try some of these cheap recipes that honor the Mexican culture to use in your menu. Chips and salsa are a great way to get the party started, and it's a cheap snack!
Of course, every Cinco de Mayo party also needs cocktails. If your party plan included hitting the bars at night, making your own cocktails at home will save you a ton of money compared to going out. Try out these Mexican-inspired cocktails and choose your favorites to have at your party!
One of my favorite ideas for a Cinco de Mayo party is putting different flavors of Mexican soda in lines on your drink counter and having a jar of mustache straws next to them. This makes for great selfies, and it'll have your guests laughing and enjoying themselves. Plus, it's super easy!
How do you celebrate Cinco de Mayo?