This post may contain affiliate links, which means if you click through and purchase something using my links, I receive a small commission. You can click here to read my disclosure policy ? Thank you!
The April 18 tax deadline is fast approaching. If you haven't begun to sort out your taxes, there's still some time to ensure the IRS receives all the information it needs. The easy way is to pay someone to do your taxes, but that can be expensive and it's best saved for complicated situations, such as if you're a business owner, especially if you are looking into cryptocurrency taxes.
Fortunately, there are several options out there that make filing your taxes a painless and inexpensive process. Here are 3 places to file your taxes for free before April 18th!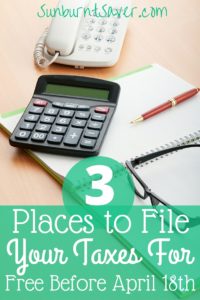 1. The IRS Free File
If you made less than $62,000 in 2015, you're qualified to use the IRS Free File software for free. It's a simple way to file electronically, so you won't need to worry about finding the physical forms you need or heading to a post office. When you file electronically, you can choose to have your tax return deposited directly into your account. It's the fastest way to get your money back.
Another benefit of the Free File Software is that, depending on where you live, you can also do your state taxes.
People earning more than $62,000 can still file their taxes electronically for free, but it won't be with the software. Instead, it's the slightly more complicated alternative for filling out the electronic versions of those traditional paper forms. It's not as simple, but it's still useful.
2. Commercial Tax Software
There are a bunch of commercial tax software products out there. Most of these products cost anywhere from $30 to $100 depending on the features, but many of these companies offer free versions that should offer enough for the average person.
TurboTax, for example, has a free version for people wanting to file federal taxes. H&R Block is known for its physical tax filing locations, but it also has software to file federal taxes for free.
These products are useful, but they're sometimes free for a reason. While filling out your federal taxes might be free, using the software to do your state taxes might end up costing an additional fee. For many people, the convenience is worth a small charge. Just be prepared to possibly have to pay despite the software being "free."
3. Free In-Person Help
If you're having trouble making heads or tails of your taxes, it's possible to get in-person help without having to pay for it. The IRS operates a searchable database of places where volunteers help people with their taxes. Typically, these services are only for people who make less than $54,000 annually.
The locations vary, from schools to community centers to libraries, but the services are just as useful regardless of where you go. The IRS Volunteer Income Tax Assistance centers are often staffed by experienced professionals who can help you out with any questions you may have.
Just be warned some of these locations required advance appointments, and many of them start to close down a few days before the filing deadline. Search on the IRS website to see what's available.
What If I'm Late?
If you're expecting a tax refund from the IRS, there's no real penalty for filing late. The IRS, after all, is happy to hold onto your money for a while and then eventually give it to you with no interest accrued. Tax returns showing a refund technically don't need to be filed until April 18, 2019. If you don't file by then, the IRS keeps your refund as a donation.
If you do owe money on your taxes, then this deadline is especially important. A late filing penalty is five percent extra for every month you don't file up until 25 percent.
Even if you're expecting a refund, it's a bad idea to put off your taxes just in case there's anything wrong with your form. Get in the habit of filing your taxes early in order to avoid any unpleasant surprises.
How are you planning on filing your taxes this season?