This post may contain affiliate links, which means if you click through and purchase something using my links, I receive a small commission. You can click here to read my disclosure policy ? Thank you!
Are you looking for some gift-giving inspiration this holiday season? You can't go wrong taste-wise or budget-wise with homemade gifts, especially if they're chocolate. These truffles and cake balls recipes are sure to be a hit – without your budget taking a hit this holiday season.
The key is to not splurge too much on fancy chocolate – if you have an option among expensive chocolate, medium-priced chocolate, or cheap chocolate – go medium because your chocolate goodies will taste better. Unless there is a coupon for the expensive chocolate, you can get away with not using that.
Here are 20 Christmas-themed truffle and cake ball recipes that are easy to make and not expensive, ingredient-wise. These recipes are perfect for:
Coworkers – bring these to your potluck or gift-exchange. They're tasty, popular, and best of all – easy on your budget.
Friends you don't see often – save a couple for yourself 😉
As an addition to a small gift – if you're getting someone a small-sized gift, add on a small bag of these treats in a festive bag to make your gift seem bigger – without breaking your budget!
Which one of these treats will you be making? Let me know in the comments!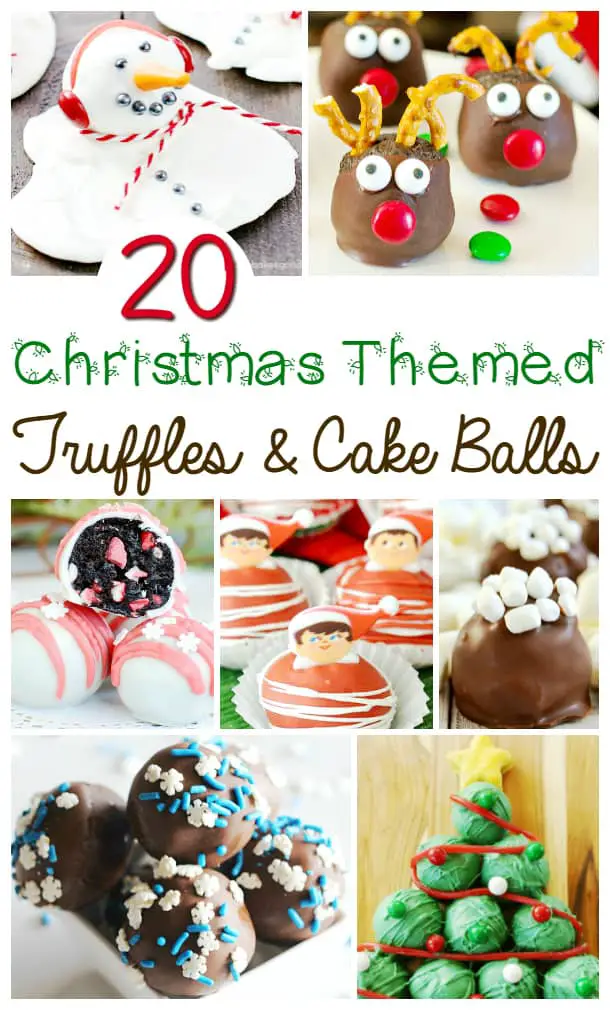 Belle of the Kitchen – Snowflake Chocolate Cake Balls
This Silly Girl's Kitchen – Reindeer Oreo Truffles
The Girl Who Ate Everything – Snowman Oreo Balls
Your Cup of Cake – Peanut Butter Hot Chocolate Truffles
The Domestic Rebel – Hot Chocolate Buttercream Truffles
Nerdy Mamma – Brownie Peppermint Cake Balls
Love Bakes Good Cakes – Melting Snowman Oreo Truffles
Shugary Sweets – Eggnog Truffles
Flour on My Face – Elf on the Shelf Oreo Truffles
Inside Bru Crew Life – Peppermint Crunch Oreo Truffles
The Gardening Cook – Funfetti Peppermint Chocolate Truffles
Mom Endeavors – Oreo Truffle Christmas Trees
Love and Olive Oil – Gingerbread Cookie Dough Truffles
Princess Pinky Girl – Peppermint Mocha Truffles
A Step in the Journey – Ornament Cake Balls
If You Give a Blonde a Kitchen – Christmas Sugar Cookie Truffles
Hungry Happenings – Triple Chocolate Christmas Truffle Mice
Cake Crumbs – Christmas Pudding Truffles
Worth Pinning – Snow Globe Oreo Truffles
Love From the Oven – Oreo Truffle Santa Hats
Which one of these truffles and cake balls do you think you'll make? I'm going for the Brownie Peppermint Cake Balls and the Ornament Cake Balls – just sophisticated and easy enough for me to pull off! 🙂