This post may contain affiliate links, which means if you click through and purchase something using my links, I receive a small commission. You can click here to read my disclosure policy ? Thank you!
It's almost Thanksgiving, everyone! I don't know about you, but I love Thanksgiving… and not for reasons you might expect.
Why do I love Thanksgiving? Because I know exactly what we're having for dinner.. and lunch and dinner and lunch and dinner and lunch and dinner…
Since becoming "an adult" with a house and a husband, I am 50% of the time in charge of meal planning. My husband covers the other 50%, but he loves to cook and I hate it, so meal planning is a real chore. If I were single again, I'd be back to my old tricks of peanut butter and banana sandwich for dinner… and lunch… yes, peanut butter and banana! Jelly is for children!
Rant aside, Thanksgiving is super predictable! Turkey (or turkey substitute if you're vegetarian like me), stuffing, mashed potatoes, some sort of healthy veggie dish (green beans, asparagus, carrots, etc.), gravy, cranberries… pie…
This year, my husband and I are celebrating our own small family Thanksgiving, then spending Thanksgiving with our parents. In addition to all the stuff listed above, my husband and I want to create our own holiday food tradition. While I was searching on Pinterest for yummy Thanksgiving side dishes, I decided to share some of my favorites with you!
Have a favorite Thanksgiving side dish not mentioned below? Share the recipe with me! I'd love to make a new meal for Thanksgiving (and maybe one I could use year round… :))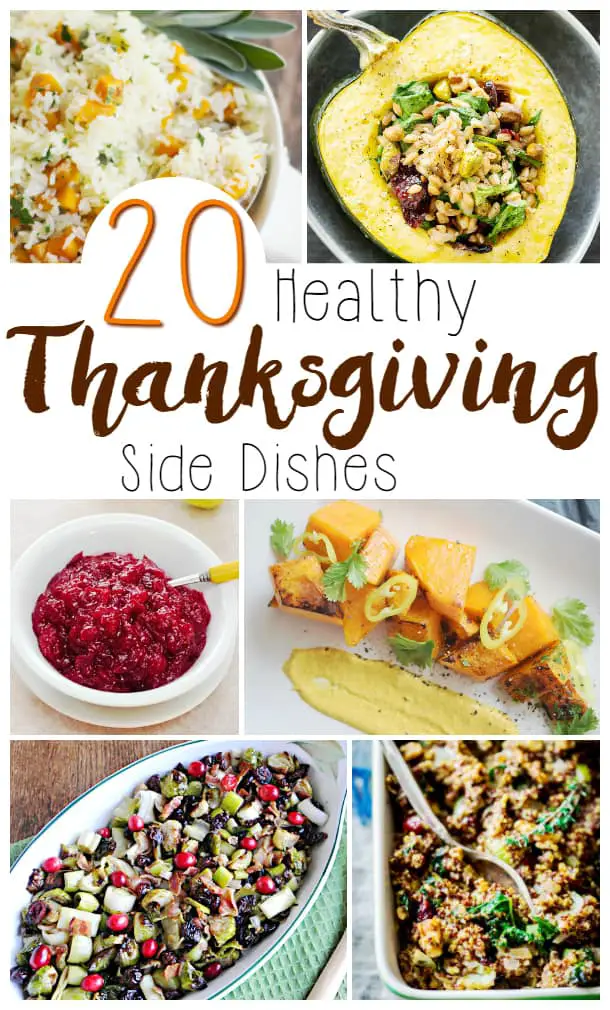 Peas and Crayons – Slow Cooker Creamy Red Potato Cauliflower Mash
To Simply Inspire – Roasted Green Beans
The Healthy Maven – Cauliflower Rice Stuffing
Tots Family – Honey-Glazed Oven Roasted Carrots
Upstate Ramblings – Roasted Sweet Potatoes and Pears
Hello Little Hame – Kale and Brussels Sprout Salad with Maple Vinaigrette
Wholefully – Butternut Squash Basmati Rice
Healthy Seasonal Recipes – Gluten-Free Walnut and Kale Quinoa Stuffing
Bless This Mess Please – Fall Salad with Maple Candied Pecans, Bacon, Apples, and Shaved Brussels Sprouts
A Sparkle of Genius – Sweet Potato Curry
Kalyn's Kitchen – Roasted Brussels Sprouts, Avocado, and Pecans
Cook Eat Paleo – Paleo Cranberry Sauce
Elephantastic Vegan – Braised Red Cabbage
Sugarfree Mom – Roasted Brussels Sprouts with Leeks, Bacon, and Cranberries
Vegan Yack Attack – Farro Stuffed Acorn Squash with Tahini Dressing
Carlsbad Cravings – Cranberry Apple Pecan Wild Rice Pilaf
Not Quite Nigella – Roast Pumpkin With Feta and Honey
Jo Cooks – Sauteed Garlic and Parmesan Mushrooms
Hello Little Hame – Roasted Butternut Squash with Gorgonzola Salad
Lively Table – Warm Eggplant, Mushroom, and Kale Salad
What are you up to this Thanksgiving? Let me know in the comments below!