This post may contain affiliate links, which means if you click through and purchase something using my links, I receive a small commission. You can click here to read my disclosure policy ? Thank you!
If you read the title of this post, you're probably asking yourself, "how does one become a financial failure at 18? Seriously, is that even possible? You're barely an adult!" I could blame it on a few things:
Lack of financial literacy in school

Predatory lending to a teen WITH NO JOB (I was even shocked!)/Easy credit back in the freewheeling mid-2000s

The Internet

My parents
While it's easy to blame all of the above (minus my teachers and parents – they're saints), at 30, I realize my 18-year-old self is very different from who I am right now, and yet not that different. For example, here's a conversation that 18-year-old Melissa had and 30-year-old Melissa has now:
"Whoa, those jeans look amazing on your butt. That guy in class is definitely asking you to homecoming with those jeans. $120? YOLO!" – 18 year old me, before YOLO was even a thing.
"Wow, that mirror on Wayfair would look great in your guest bathroom. Future buyers will like it, too. $120? Worth it!" -Me, two weeks ago.
Spoiler alert: that guy wasn't worth it, younger self! But other than what I was buying at 18, how is it any different from what I want to buy now? Just like my 18-year-old self, I even want things for other people!
The main difference is that, at 18 years old, I became a huge financial failure and now have 10 spending traps to avoid, so I don't make those mistakes now. Think it's not possible to become a financial failure at 18, or think I'm being too hard on myself? Read on for my story and how I avoid these spending traps now.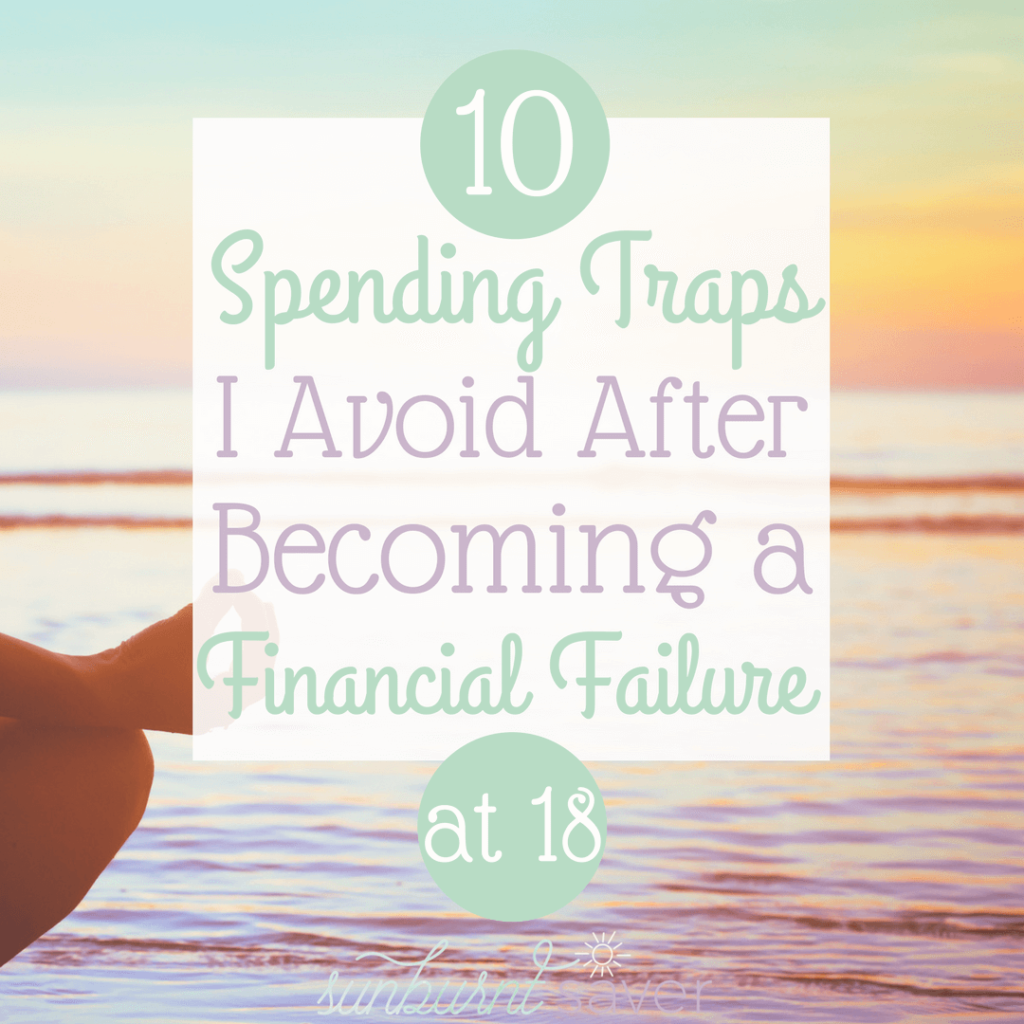 The Evolution of a Financial Failure
Before we go any further, I made mistakes and I know this. If you feel the need to comment about what a "stupid girl" I may have been over 10 years ago, maybe keep it to yourself. I know what I did wrong, I handled it, and I learned a lot. I also got a lot of lectures from my parents. I'm sharing my story for others who are ashamed of their debt but want to or already did learn something from it.
My parents actually did send me to financial literacy classes – taught by public school teachers. So the fault isn't that I "didn't understand" financial literacy. While no credit card company should have given an 18 year old with no job a line of credit, it's not really their fault either. And while the Internet did fail to process my online payment (I did try to pay the bill!), in the end, I just forgot about the payment.
I forgot to follow up, the payment never went through, I went to college and lost my credit card (cancelled it, at least!) and along the way, my debt was apparently sold to multiple companies.
I never noticed at first, until I started getting calls from debt collectors when I was 19 and 20. Sometimes they would just use something like a ringless voicemail for debt, most times though I just ignored it. At first I was super confused – they definitely had the wrong person! But I didn't apply for any credit during those years, so I never bothered to check my credit score. I changed my number and moved on.
After graduating college, I was denied access to utility service by our local utility company because of my very bad credit (a roommate ended up qualifying). I almost wasn't allowed to rent because of my bad credit history, but I paid 2 months rent up front and was allowed to move in.
Then I checked my credit score… and saw I was delinquent. I can't remember what my score was then, but it was bad enough to get denied utilities, so… probably pretty low. I was fielding calls every week from debt collectors (they found my new number), and I received dozens of letters in the mail telling me my debt had ballooned to $1,300, $1,800, but I could "erase it all" by paying $350, $500, $800.
All for a $120 pair of jeans. Was it worth it? I was hounded until about age 28, when the debt and its burden seemingly fell from my credit history (it does appear to be gone).
I still worry about it, and debt like that haunts every spending decision I've made since. Add in graduating during the 2008 recession, and there you have it: a Millennial who absolutely refuses to be in debt anymore.
But it's not like my spending triggers just went away because I'm leery of debt – I still want to buy things and have a normal life. So how do I keep myself from getting into debt again? By avoiding my spending traps.
These are the 10 spending traps I avoid – hopefully they help you in your quest to eliminate debt and save!
10 Ways I Avoid Spending Traps
Never buying retail – or without a coupon
Simply put, I rarely go shopping for new clothes, make up, or even groceries without a coupon, sale, or cash back. At the very least, if I have to buy something that's not on sale (yes, including groceries), I shop with my cash back credit card so I'm at least getting something out of this transaction.
Sticking to a budget for groceries and household items
Perhaps one of the most important things I do to avoid spending traps is setting a budget. I never buy anything I don't have money for. While I created a budget for myself a while ago, I pretty much know exactly how much I have in my account at all times and keep a running tally of things I've spent in my head. With enough budget discipline, you can have a budget in your head too 🙂
Following a reasonable diet
This means few alcohol or expensive chocolate, cheese or wine purchases. Not ever – I still like all of that stuff! Just infrequently.
Avoiding lifestyle creep
One of the easiest ways to avoid spending traps is pretending raises or bonuses don't exist. While I'm an entrepreneur now, I know what I need to "survive" each month (with a little fun money). Once I've made that amount, everything else goes into savings or investing. You can't let your lifestyle get too out of control if you don't "have" the money.
Reminding myself of my debt
Once a week I review my net worth, get sad, and remind myself not to buy things. I still have a ton of student loan debt and, until that gets paid off, I'm not letting myself off the hook for being out of (credit card) debt.
Keeping everything in my Amazon cart until it decreases in price
This is one of my favorite ways to "shop" and still save money. Keep Amazon items in the "saved for later" portion of your cart or in a Wish List. Amazon pretty regularly lets you know when things have decreased in price when you log in. I've saved over 50% on items that were hot in the summer (like pool items) and then on "sale" in the winter.
Allowing myself small splurges of my biggest temptation
All work and no play makes Melissa a spender, so I allow myself some treats (like the Sephora $10 Play box). I get to indulge in some of my favorite things at a steep discount. It still feels like a fun treat and it's not expensive!
Taking advantage of cheap things in my city
You can find a ton of cheap things to do in almost every city just by searching the internet! I look for happy hours, discounts, and free events to have some fun and get out of the house.
Making my house more enjoyable
I did invest in some Craigslist gym equipment. Now I don't spend anything on gym memberships or driving to a gym, and I finally have something to put in this big minimalist house 🙂
Finding hobbies
Hobbies are a great way to avoid spending money on useless junk. My hobbies are reading, organizing, and working out, which are basically free or even make money (like when I clean out my closet with those $120 jeans or when I walk 10,000 steps and get paid for it ). 
How do you avoid spending money or going into debt? I'd love to read how you avoid your spending traps!